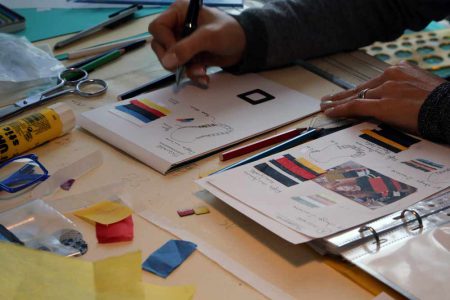 Papier-mâché dates back to the first centuries BC in China. It reached Europe later and made its way to Italy in the 16th century in a few early works. The technique and its use in both art and building came to the fore in 18th century in England and then in Italy.
Its raw materials are simple, basic, elementary: glue and paper.
My inspiration is the real world I observe around me: its colours and aromas. Everyday I carry out research on the trends of the moment and then rework them.
This reinterpretation develops as I leaf through newspapers and coloured paper of all sorts, treating them and glueing them.
Sometimes, however, paper speaks, tells a story, remembers a specific moment which can be impressed into a piece of jewellery or a specific end product.
This is how each "papier-mâché" I make is different from the last because the materials, my hand, my mind, my mood and the requests made of me are different every day.
"My papier-mâché" is obtained using two methods depending on the end result and type of object that I want to make: sheet or pulp.
For my jewellery I mainly use the sheet method, for my objects (vases, pictures and lamps) I use both sheet and pulp.